I hope you had a wonderful Thanksgiving!
It's been two months since my last post. I've missed all my Poetry Friday friends, but I've accomplished a whirlwind of stuff. I moved my yoga studio to a new location with more room and more exposure.
I started a 200-hr yoga teacher training program. The training runs for ten weekends between September to May. We just finished weekend three and I am remembering just how much I love teaching.
I took a six-week online pain neuroscience class through my son's physical therapy clinic and absolutely loved absorbing as much information as I could squeeze into my brain. I'm looking forward to translating some of that info into yoga workshops, especially for people struggling with chronic pain.
Unfortunately, writing has been on the back burner. It will come back, I know it will, but for now, it's still okay to do what's in front of me. Although I have managed a poem or two a month. Here's my poem from this month's Today's Little Ditty Challenge. I think I need to reassure myself that I really did write something this month!
A Gnarled Oak
extends tumorous limbs across the road,
the mass of leaves a marvel of deep shade
despite disease—like our Walmart greeter
ticking off receipt items with a grin.
He's forgotten the lumps under his skin,
ignores the way eyes skitter from him
to the latest sale or the cashier making change
or the house shoe-clad girl in the next aisle.
The discomfort not his. He smiles and greets,
his roots sunk deep in some whispered truth
only his ears are tuned to hear
and bestows his grace-filled shadow
without reproof.
© 2017 Doraine Bennett
I want to recommend a beautifully written and illustrated book for those of you who love celebrating advent with your family.
Paraclete Press, 2016
In her introduction,
Gayle Boss
says, "The practice of Advent has always been about helping us to grasp the mystery of a new beginning out of what looks like death. Other-than-human creatures--sprung like us from the Source of Life--manifest this mystery without question or doubt...They can be to us 'a book about God...a word of God,' the God who comes, even in the darkest season, to bring us a new beginning."
So begins twenty-four short, lyrical descriptions of animals and their adaptations in winter, enhanced by original woodcuts created by
David G. Klein
.
Here is a sampling of the animals and a few excerpts to whet your appetite for this lovely book.
Painted Turtle One day in the fall, as water and air cooled, at some precise temperature an ancient bell sounded in the turtle brain. A signal: Take a deep breath. Each creature slipped off her log and swam for the warmer much bottom. Stroking her way through the woven walls of plant stems, she found her bottom place. She closed her eyes and dug into the mud. She buried herself.
Black Bear Crouched in the snow-muffled quiet I imagine hearing her slow breathing. I imagine smelling slow-burning bear--the fat she made from all those nuts, berries, bugs, and plants melting and fueling her sleep. She is shrinking--except in the den deep inside her body. There she is multiplying, balls of cells swelling into new forms of her.
Wood Frog There will come a warm day in spring when the ice goes out--of the ponds, of his blood--and doesn't return. The with dozens of other wood frogs he'll hop to the pond and send up a thrilling chorus: Death, we've robbed you of your ruin, we've takin you in.
Eastern Fox Squirrel He would dig a decoy hole--or two, or more--before depositing a nut. Or after. He came back later and reburied nuts in new places...What he depends on to survive the barren season is the power of memory. I imagine him curled in his nest, a wind-tight ark of leaves and twigs high in the three, each night consulting the map of his memory.
Watch the book trailer
here
. You may have to scroll down a bit to find it.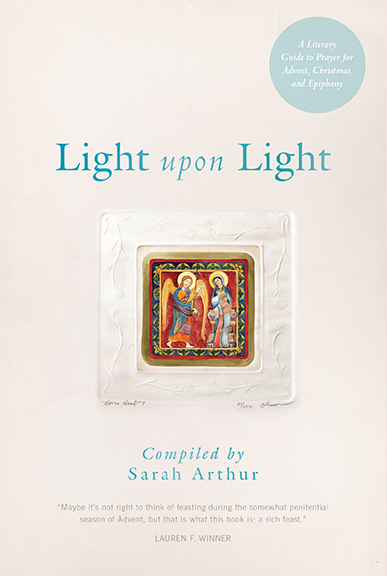 And if you're looking for something on the more adult level, this is one of my favorites from Sarah Arthur. You can read an excerpt at
this post
from a few years ago.
Carol hosts the Poetry Friday roundup this week at
Carol's Corner
.
Maybe I won't wait two months before I post again!